Drew Clay, PhD Candidate, LPC, NCC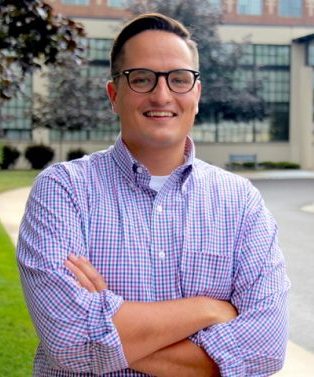 Drew Clay collaborates with individuals and couples to identify and implement healthier ways of being and relating.
I am a licensed professional counselor and a national certified counselor. I earned my master's degree in Counseling from Huntington University in 2012 and my PhD in Counselor Education and Supervision at Western Michigan University in 2018. My doctoral specialization was in couple and family counseling. Having considerable experience working with individuals, couples and families to address concerns of anxiety, depression, grief and loss, post traumatic stress, interpersonal conflict, intimacy issues, and boundary setting, I am particularly skilled in helping clients navigate difficult life transitions and identity development issues. Topics frequently explored in this process include faith, sexuality, relationships, divorce, work, illness, and death/loss. Prior to joining HFPS, I provided mental health and substance use services at Family Outreach Center.
To encourage both relief from distressing symptoms and lasting change, I draw upon empirically supported methods of counseling, including Emotion Focused Therapy (EFT), Accelerated Experiential Dynamic Psychotherapy (AEDP), Mindfulness-Based Therapy, and Trauma Focused Cognitive Behavioral Therapy (TF-CBT). For those who are interested in exploring faith and spirituality as a part of therapy, I am also skilled in integrating formational practices.
In addition to my clinical work, I have researched and presented professionally on topics including grief and loss, child sexual abuse, trauma recovery, and increasing motivation for change. The topic of my doctoral dissertation addresses the grief experience of family members providing care for a loved one with a prolonged, terminal illness. I also serve as an adjunct professor of counseling for Huntington University, Spring Arbor University, and Western Michigan University.
For more information or to schedule an appointment contact Drew Clay.
Enriching Lives, Strengthening Relationships, Empowering Families